It's no secret that I love Italian food. I could probably devote a whole month's worth of posts to Italian recipes. As a Smart and Final Smarties member I recently had the opportunity to create an Italian recipe using La Romanella products. La Romanella is an Italian food line at Smart and Final with a wide array of products including pasta, pesto, cheeses, and even biscotti! Today I'm going to share with you my Chicken Penne recipe, a favorite in our household.

3/4 cup La Romanella Parmesan cheese
1 1/2 cup heavy whipping cream
1/4 cup Mozzarella cheese
1 garlic clove (minced)

1 chopped tomato
dash of salt and pepper

chicken
This is the BEST pasta I've ever had hands down. The best part is it's only $1.69 for a bag of organic penne. I also picked up a bag of La Romanella farfalle that I can't wait to try. You can check out my shopping experience on Google +.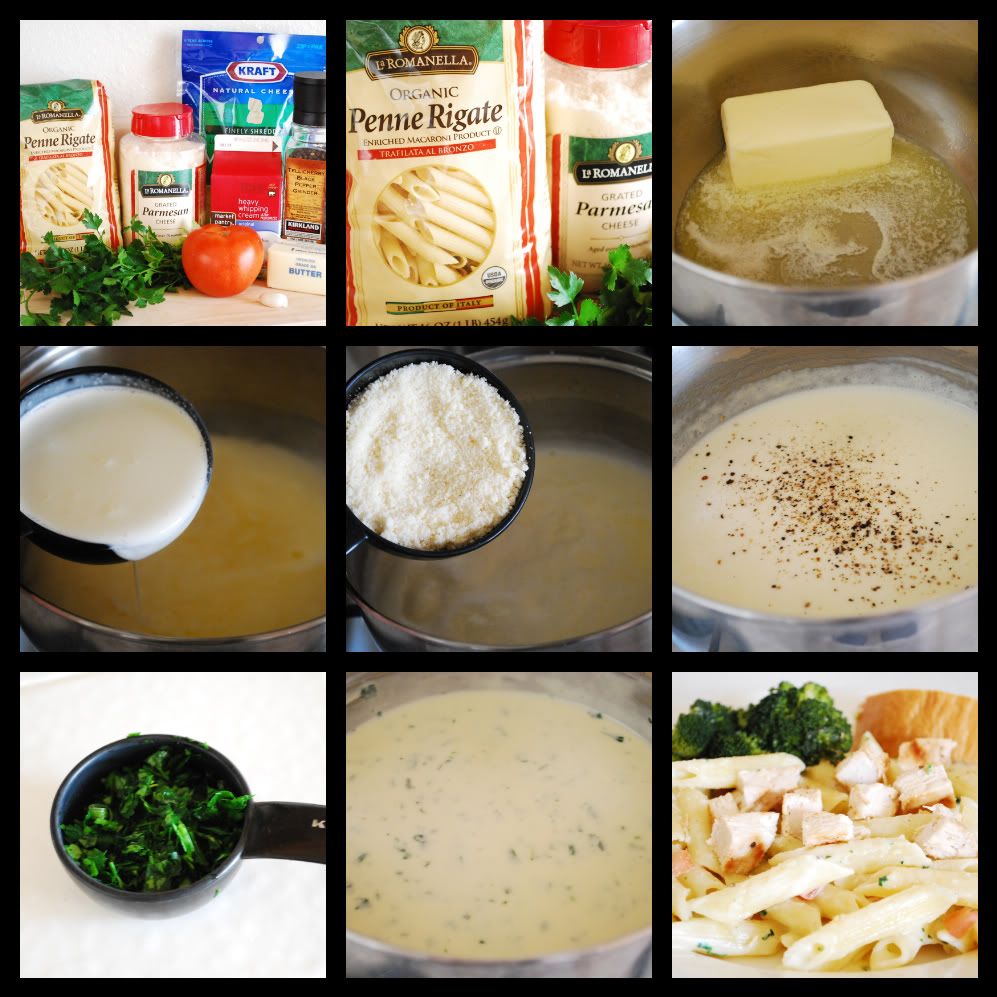 To make Chicken Penne cook your pasta according to the package (about 10-12 minutes). In the meantime cook chicken breast and any vegetables you would like to serve with your dish.
To make the Alfredo sauce melt butter in a saucepan, once completely melted add the heavy cream and minced garlic. Whisk in the parmesan cheese, dash of salt and pepper, then simmer for 8-10 minutes, stirring often.
Remove from heat and stir in the parsley and mozzarella cheese. Toss Alfredo sauce with your pasta, add grilled chicken, then sprinkle chopped tomatoes on top. We like to serve ours with steamed broccoli and a fresh baguette.

Starting today if you purchase La Romanella products from Smart and Final head on over to www.smartandfinal.com/LaRomanella2012 to enter the code on your reciept. By doing so you will be entered to win some of these amazing prizes:
First Prize: a weekend trip to one of the most luxurious Italian inspired resorts in Las Vegas
Additonal prizes:
(8) $100 SmartCash cards
(8) La Romanella gift baskets worth over $50
Pretty awesome prizes right?
As a Smart and Final Smarties member I'm also entered into their blogger recipe contest and would LOVE it if you voted for my Chicken Penne recipe. You can vote by going to the Smart and Final website. By voting you are automatically entered to win one of the (8) $50 SmartCash cards being given away. Thank you so much for all of your support!