Today I would like to show you my home office. Unfortunately I don't have a spare room to convert into an office/craft room, forcing me to get creative with our space. We are currently in the process of making an office/craft space in our master bedroom but I have yet to find a desk that fits my needs. In the meantime I've set up a nice little office space in the kitchen that helps keep my whole family organized. This is where I read emails, blog, fill out paper work, and craft.
To make the space colorful I have a framed fabric covered cork board that I use for notes. My son also uses this when he has a school form for me to fill out. He knows that if it's pinned I'll see it and won't misplace it, then have the teacher call me to ask if he can go on a field trip because he's the only student who hasn't turned his permission slip in. Not that that's ever happened….
This X-ACTO Spira pencil sharpener is a new addition to my office space. We usually have the small dollar sharpeners that seem to always get misplaced. This is very frustrating when my son needs to sharpen a pencil to do his homework and it's nowhere to be found. Well, the other day I printed this $3 off coupon, packed the kids up, and headed to Walmart to purchased an electric pencil sharpener. You can see more pictures on Google + but here I am shopping with my favorite 7 month old. Look at all those curls! This little boy melts my heart. :)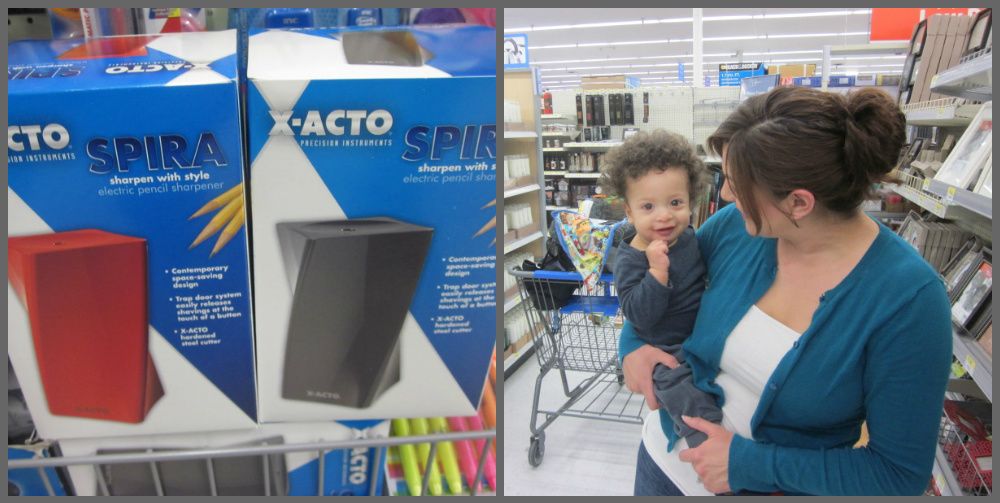 We now have an amazing sharpener that is both sleek and functional. The best part is that this baby is staying put, no more looking for lost sharpeners during homework time! Not only am I happy to have this sharpener for my son's homework but it's come in handy for me as well. You see I'm a list maker and note taker kind of gal. About 99% of the time you'll find handwritten notes in my kitchen, room, and car. My husband will tell ya that I get most of my craft ideas while I'm out and about. I keep a pencil and notepad in my purse at all times. I'll have to show you a picture of my random scribblings someday. I think you'll find them comical. :)
The print on the magazine holders is so simple and modern, just my style! I found the holders and tray for a dollar each. I like when I find cute and inexpensive storage containers. The dry erase calendar I found for 50 cents. Here's a little secret…I used a removable mounting square to hold the dry erase board up. That way when I need to plug in the sharpener I can just take it down, then put it back up to hide the plug.
Another way I stay organized, especially during tax season is by keeping folders and files. Throughout the year I keep our important tax information filed in a folder. I keep the W-2s, 1099s, blog information, receipts, and miscellaneous papers labeled. This makes it easy for me to keep track of receipts and paperwork that we will need come tax time. This is also when my note taking goes into overdrive. I'm constantly writing and erasing notes on forms. I'm going to definitely get some good use out of my new sharpener this weekend when I do our taxes.
How do you keep track of paper work, especially during tax season? If you have limited space like me, how do you stay organized?
and here's a link to the coupon I used
This shop has been compensated as part of a social shopper insights study for Collective Bias. #CBias #XACTO