Its officially been 3 years since we purchased our home and as much as I don't like to admit this, we still haven't finished decorating. However, I have made some progress within the last year and recent months. Sometimes decorating can be a challenge for me, I usually have a hard time finding items that I like that are within my price range.  I feel like I have finally found my style and am always looking for neutral home decor ideas. So I was thrilled when Kirkland's asked me to go on a treasure hunt for some home decor.
Since the nearest Kirklands store is over an hour away I decided to look online first. Here are a few of my favorite home decor pieces that caught my eye…
This grey console table is perfect for my neutral living room. I really like the doors with windows and how its styled with books inside.
The tuffeting makes this blue chair absolutely adorable! It's perfect for a home office, craft room, or in a living room.
A beautiful etched glass lamp would look great on my current espresso console table.
The simplicity and rustic feel of this flower petal mirror is stunning. I'd like this mirror in my entry way above the grey console table.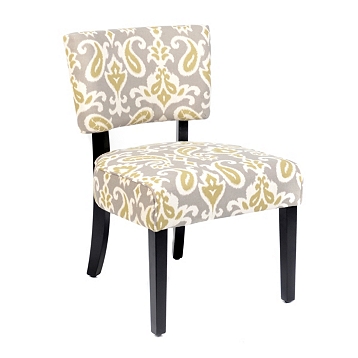 This grey ikat chair would look great with my craft desk and give my space some color.
So tell me, what is your decor style? Do you love neutrals like I do or are you all about bright colors?
Come back tomorrow to see what I came home with after visiting a Kirkland's store and for the chance to win your own shopping spree!
I received compensation for my Treasure Your Home blog post. Kirkland's partnered with several bloggers like me to raise brand awareness in the month of February. All purchases and content are on my own accord and reflect my personal opinion and style. Kirkland's blogger outreach policies abide by the WOMMA Ethics Code, FTC guidelines and social media engagement recommendations. For official Kirkland's giveaway rules, visit here.