Being pregnant means I'm constantly craving something. The past few days it's been cream puffs. So I asked hubby to pick some up from our grocery store bakery only to find out they're on sale this week and keep selling out. So last night I searched for a recipe and found that they're really easy to make.
Ingredients:
1/2 c. flour
1/2 tsp sugar
1/4 tsp salt
1/4 c unsalted butter
1/2 c. water
2 eggs, lightly beaten
Preheat oven to 400 degrees.
In a bowl sift together flour, sugar, and salt.
Bring water and butter to a boil. Remove from heat and quickly mix in flour mixture. Return to heat for a minute or two, until the dough forms a ball.
Then use a mixer to cool the dough down, once it's cooled mix in slightly beaten eggs. The second picture shows what mine looked like after the eggs were incorporated.
Using a pastry bag I piped them onto a greased foil lined pan (parchment paper would also work). Bake at 400 for 15 minutes. Then reduce heat to 350 degree and bake for an additional 30 minutes. Once they're golden brown, turn off the oven and slightly open the door and let them sit for 10-15 minutes. Remove from oven and cool on wire rack. Once cooled cut them in half and pipe whipped cream and sprinkle with powered sugar.
For the whipped cream:
Mix 1 cup of heavy cream, 1tbsp of sugar, and 1/2 tsp of vanilla extract.
Place in refrigerator for 30 mins. Using a hand mixer I mixed it until the cream thickened up.
I used a Wilton 2d tip to pipe my cream, but you could also scoop the cream inside.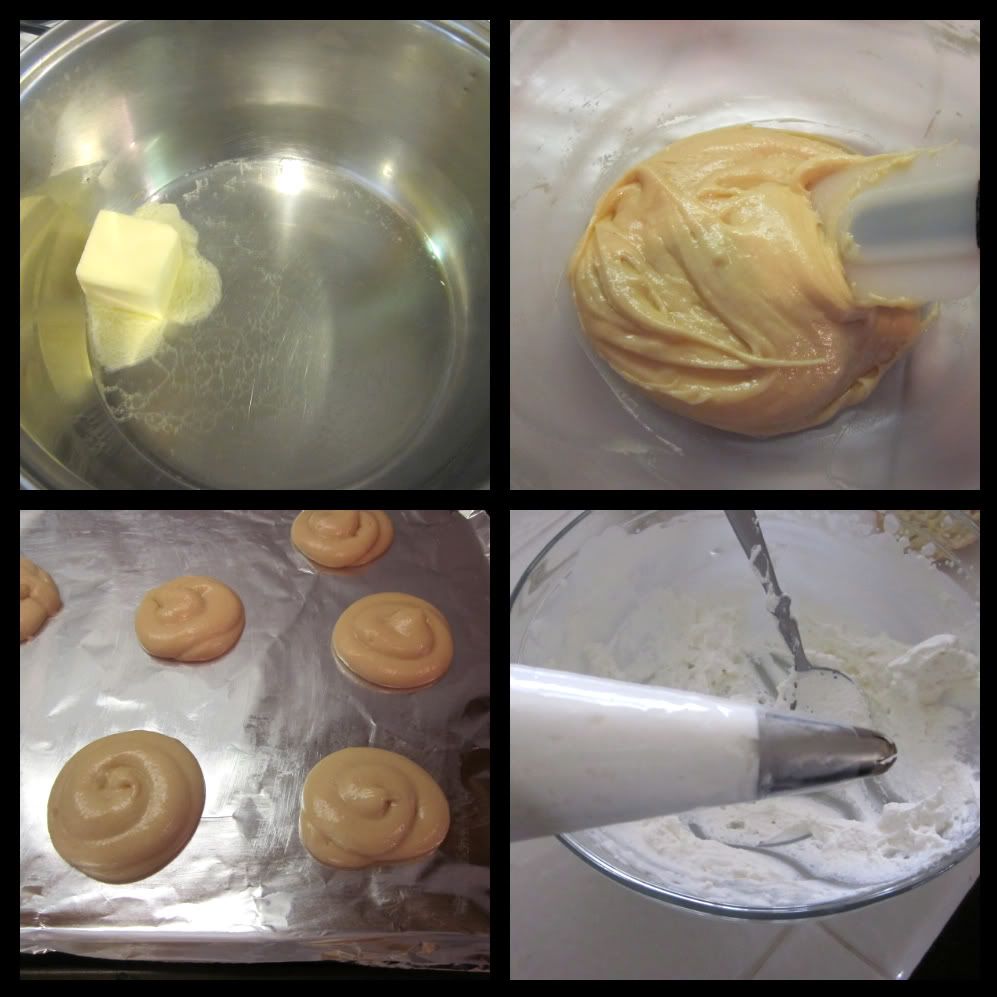 They didn't get very puffy, but they were still delicious! So technically I can't call this a recipe fail if it was good right??
We had strawberries with it (I had forgotten the powdered sugar at this point, but added it later).
If anyone has any tips on how to make the pastry to puff up some more I'd love to hear them!
On another note, I've come up with our summer to do list and created week themes to keep the kids busy. So far we have projects lined up for
Beach Week
Safari Week
Nature Week
Fairies and Dragons Week
Story Book Week
I'll be sharing all of our projects and trips as we go along. Thanks for stopping by and check back soon for updates on our theme this week.
Linking this recipe to these awesome parties.