I was inspired by the adorable peeps topiary in Woman's Day Magazine. I don't see it up on their site yet but here is a tutorial on how to make this cute topiary.
Supplies:
Flower pot/pail
12″ dowel
Green paint and paintbrush
Embroidery hoop (their's calls for a 6inch, but 8inch is all I could find)
Peeps (I used 4 packages)
Green Easter grass
Glue gun
Flower foam
Cut your foam so that it fits in your pail. After you've painted your dowel glue it onto the opening of the embroidery hoop. Use a lot of glue!
Then take a group of 5 peeps and glue them onto the hoop. DO NOT separate, but slightly bend them to encircle the hoop.
I apologize for not having a picture of the last steps. After your peeps are glued on the hoop, glue the dowel into your foam. You can spray the peeps with a craft sealer to help preserve them. Add the Easter grass and then you're done!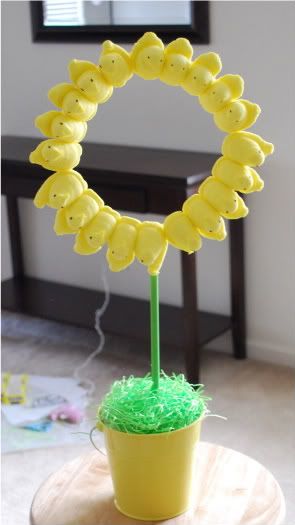 Tip: check your peeps to make sure they are all in good shape. One of my packages didn't look as nice as the others and I'm considering redoing that section.
Isn't this a fun craft? Thanks for stopping!
Linking to these parties