Mint Chocolate Chip Ice Cream Cupcakes – layers of chocolate cake, mint chocolate chip ice cream, whipped topping and mini chocolate chips.
It's been awhile since I shared a dessert with you, the marshmallow brownie bites for Valentine's Day might have been the most recent. I think it's time for another easy dessert idea, right?
As you can see, we love dessert in our household. I try
to limit how often we bake, but it's hard to when we come up with fun
ideas like ice cream cupcakes. In honor of St. Patrick's Day we decided to make mint chocolate chip ice cream cupcakes. Mint chocolate chip ice cream is my son's favorite, so he was pretty excited. My husband on the other hand doesn't like mint chocolate chip ice cream, so naturally he had a Reese's ice cream cupcake. If you've been a reader long enough you probably know how much my husband LOVES Reese's. Actually anything with peanut butter and chocolate together, like the Peanut Butter & Chocolate Caramel Corn and Peanut Butter Blossoms we made.
This was one of those ideas I quickly thought of but had no idea if it would work. I didn't know how much batter to put in the cupcake pan, if the ice cream would slide right off, or if it would turn out to be a complete fail. I've had a few of those lately. Hmm, that might make an interesting blog post. :)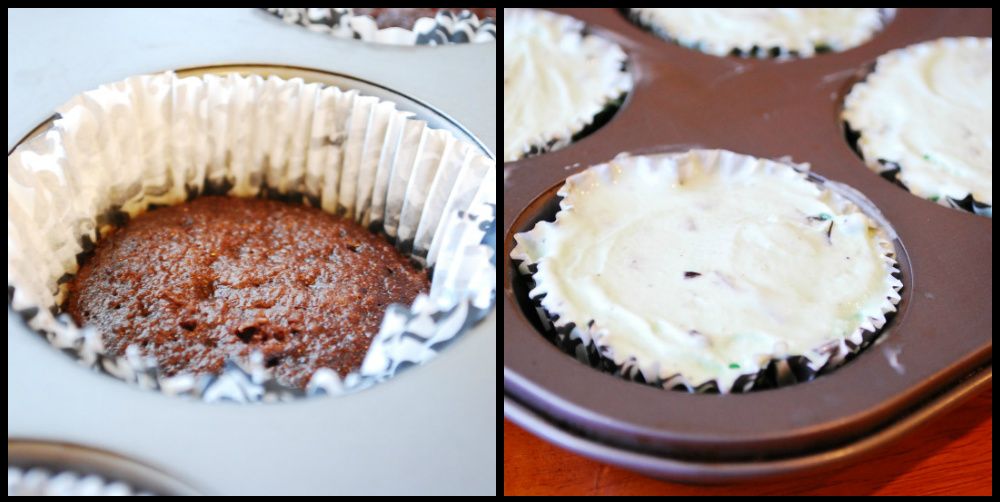 To make your own you will need your favorite cake mix, ice cream, and cupcake liners, frosting and chocolate chips optional.
I found using one tablespoon of batter worked the best. If you like more cake than ice cream, increase the batter by a teaspoon. Bake for about 10-12 mins, depending on your oven settings. Once the cupcakes have cooled, press softened ice cream on top and freeze until completely hardened. They are fairly easy to make, but I do suggest you serve them immediately as the ice cream melts quickly.
Mint Chocolate Chip Ice Cream Cupcakes
Ice Cream Cupcakes Recipe
Ingredients
Chocolate Cake Mix

Mint Chocolate Chip ice cream

Whipped topping or frosting

¼

cup

Chocolate chips
Instructions
Preheat oven and prepare cake mix according to package directions. Line muffin tin with cupcake liners.

Pour one tablespoon of prepared cake batter into each muffin tin; bake for 12-15 minutes.

Remove from oven and cool.

Spread ice cream on top of each cupcake. Place in freezer for 3-4 ours to set.

Use a piping bag to pipe whipped topping (I used Cool Whip) or frosting on top of cupcakes.

Garnish with mini chocolate chips.
Have you made ice cream cupcakes before? What ice cream flavor did you use? These might make an appearance at our next birthday party. It would make handing out cake and ice cream so much easier.
Thanks for stopping by! I'll be back soon with another St. Patrick's Day idea.
More ice cream cupcakes recipes:
Reese's Ice Cream Cupcakes